Bonanno Family Olives and Gourmet Olive Products
are some of the very finest in the world.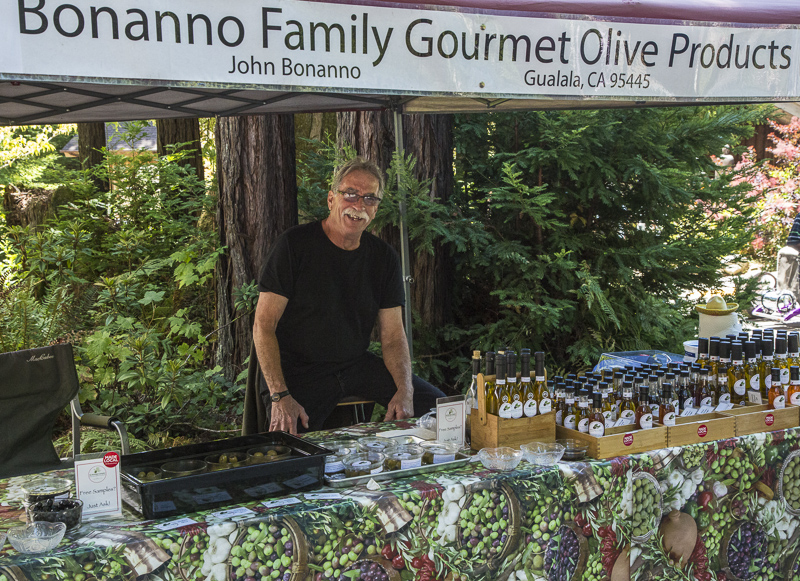 My wife Kerry and I have lived in the small California coastal community of Gualala since before it had a grocery store or a pharmacy or a fire station or any of the other urban infrastructure that most city dwellers take for granted. Of necessity, we pride ourselves on being resourceful. We were" locavores" before the term was coined and gained popularity as a lifestyle. Back in the 1950s, as a child, I had helped my grandmother gather wild berries and mushrooms and, being of Italian stock, we also marinated olives. In northern California, picking berries and gathering mushrooms is a common practice, but nobody here on the coast was marinating olives, so my wife and I began giving home prepared olives as Christmas presents to our friends. People loved our olives and wanted more. Bonanno Family Olives and Gourmet Olive Products was born.

Since our company was founded, we have become more and more interested in what one can do with an olive. It is an amazing fruit and transforming olives into olive oil is, in some ways, analogous to the transfiguration that a grape undergoes as it is converted into wine. Like all enthusiasts, my wife and I are dedicated to the purity and quality of our product. We are determined to give you, our customer, the very best product we possibly can - no matter the amount of time or effort that it requires. Our olive products are not ordinary, but the only way that we can convince you of their uniqueness is through a tasting. That is why we spend so much time participating in farmers' markets and other special events around Mendocino and Sonoma Counties. Next time you run into us, please stop and say hello. We'd love to have you taste some of our products.
Our products can be purchased in
Surf Market in Gualala
Gualala Supermarket
Harvest Market in Fort Bragg
Coastal Organics Co-0p Market in Point Arena
Gualala Farmer's Market, Saturdays 9:30-12:30
West End Farmers Market, Santa Rosa, Sundays 10-2
We are available for Retail Locations,
Special Orders & Tasting Events